QuickBooks is user-friendly software. However, some users are unable to set up or send forms via email, and some can't install QuickBooks desktop. Usually, this error occurs when a user is operating an outdated Windows or QuickBooks. If you are getting QuickBooks out of memory error, then you should read and try all the solutions mentioned below.
What Is QuickBooks Out of Memory Error (QBmapi64 Memory Issue)?
QuickBooks out of memory error occurs when there is not enough space for QuickBooks to complete certain operations. While performing certain functions, QuickBooks needs to process a lot of information, which requires enough space. This error occurs when your computer has less than 1 GB of free system memory, and QuickBooks crashes as soon as you get this error. QuickBooks run out of Memory means when you install QuickBooks, then also the error may appear as-
"Qbmapi64.- "out of memory"

Vital Causes Of QuickBooks Out Of Memory Error
As the name of the error- 'QuickBooks out of memory,' suggests, the primary reason for this error is lack of RAM. Check what else can trigger this error-
Corrupt QuickBooks files.
Not enough space.
Solution For QuickBooks Out Of Memory Error
Your data file is most likely corrupted, so you need to repair the file and troubleshoot any other error in QuickBooks. Also, check if your system has enough Memory and update the QuickBooks.
Solution 1: Must Use Latest Version of QuickBooks
QuickBooks requires the latest updates to fix errors and security issues. Install recent updates with the following steps-
Navigate to Start and then> Right-click on QuickBooks.
Choose the option Run as Administrator.
Locate the Help menu and> then tap on Update QuickBooks Desktop.
Select the Open tab.
Click on Mark all> then Save.
Mark the checkbox for Reset Update from the Update now tab.
Click on Get updates.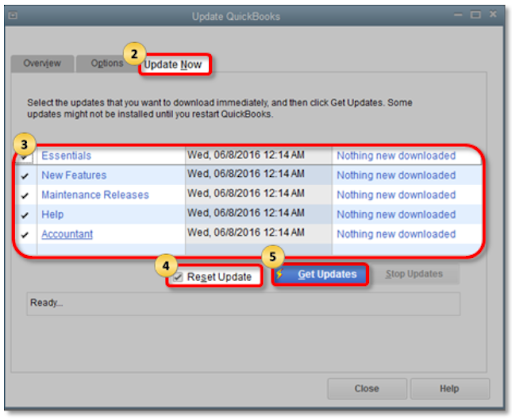 Once the installation process finishes, Click on Yes to install the software.
Now restart the system and check if the error persists.
ALSO READ: How to Resolve QuickBooks Error 6155 [Unable to Open Company File]
Solution 2: Repair QuickBooks with QB Tool Hub
Sometimes, despite having the latest version of QuickBooks and Windows, QuickBooks out-of-memory error appear. QuickBooks tool hub will eliminate any standard error that is causing this error. Therefore, we recommend downloading the latest version (1.5.0.0) of the QuickBooks tool hub. 
Close QuickBooks desktop.
Download and save the most recent version of the QuickBooks tool hub to an easily accessible location.
Open the downloaded file (QuickBooksToolHub.exe).
Now follow the instructions that appear on-screen and install the file.
After the installation, double-click on the tool hub icon on your Windows desktop.
Now open the QuickBooks Install Diagnostic Tool by selecting Installation issues.
It will run and fix the problem.
After the tool finishes, Restart your PC and check if the issue has been resolved.
Note: You can find out which version of the tool hub you use at the bottom of the Home tab.
Solution 3: Check Occupied Memory To Resolve QuickBooks desktop out of memory Error
You need to check the amount of RAM occupied and what are the programs that are consuming most of the Memory. If you find any virus or malware consuming too much Memory, you need to get rid of that software. Follow these steps to check-
On your keyboard, Press the keys Ctrl + Alt + Del.
Click on Launch Task Manager to open it.
Now tap on More details> then click on Memory to sort according to RAM use.
You'll be able to see the programs consuming the Memory most.
If any unnecessary program is taking too much space, click End Task.
Read Also- How to find Quickbooks Validation Code in Registry
Solution 4: Change Minimum System Requirements for QuickBooks Installation
If you have a downloaded installer, then changing the minimum requirements for QuickBooks installation can also work to rectify the error-
Press Windows + R simultaneously to open the Run window.
In the Run window's text box, type %temp%.
Now press the button Enter on your keyboard.
Locate the QuickBooks folder from the Temp folder.
Copy (Ctrl + C) and Paste (Ctrl + V) the folder on your desktop.
Double click the Q Books folder after opening the QuickBooks folder from your desktop.
Find the Framework.xml file and right-click on it.
Press the keys Ctrl + F>type Min Requirements> and press Enter.
You will find text- <Memory>100MB</Memory> under the <Min Requirements>.
Change the number from 1000 to 0.
Now tap on Save from the File option. Close the file.
In the installation folder, double-click on Setup.exe.
Need Help to Fix qbmapi64 Out Of Memory QuickBooks Error!
Although the error QuickBooks out of Memory is about running out of Memory, sometimes Memory is barely the issue. You'll most likely get rid of this error by following these solutions. If you need more assistance, reach out to QuickBooks Data Service Solutions team of professionals at +1-(855)-955-1942 to eliminate this error.

Related Posts-

Troubleshoot QuickBooks script error
Rectify Intuit Sync Manager Error
Resolve QuickBooks crash com error