If you find yourself in a situation where you need to start fresh with QuickBooks Online, then you can clean your data and start over. However, If you've used QuickBooks for a while, and now you need to Delete QuickBooks Online Data and Start From Scratch, then you will need to create a new company. It is crucial to implement this process with caution, as deleting your data permanently erases all financial information and transactions associated with your QuickBooks Online account. So, before proceeding, it is essential to create backups of your data to have a copy of your previous records. Then you can proceed ahead with this blog to delete QuickBooks Online data and start from scratch.
The blog provides you with two options to delete your data depending on your subscription level and the duration you are using your QuickBooks account. However, it is important to note that both these actions cannot be undone, so perform them carefully and under the guidance of an accounting professional.
Wondering How to Wipe QuickBooks online data? Well, if that's the query, we would suggest you get in touch with our experts by giving us a call on our Toll-Free Number +1-(855)-955-1942.
Certain Things You need to Consider Before You Delete Specific Customer and Restart it in QBO
You need to be sure of deleting the data as it is a non-reversible process. This means the data, once deleted, can not be recovered. You also need to take care of certain things before you proceed with the deletion process. 
These steps will delete all your data for a QuickBooks Online company. However, if you want to delete all your Intuit data, you can carry out some different steps.
Remember, this process does not cancel out your QB Online subscription, so there is no need to worry about it.
If you have any third-party application or bank connected to QuickBooks online, deleting the QB Online data would permanently damage and delete these connections for your company.
You can still reuse these current lists after starting over.
Make sure to sign in to QuickBooks Online as an admin.
If you are using QuickBooks Online Accountant, then don't use these steps. Instead, you need to import a blank QuickBooks Desktop file to start over again.
Process To Delete QuickBooks Online Data And Start From Scratch
Here, we have mentioned the two conditions under which you would be able to clear your company's account:
If your books are 60 days old or older
If your books are less than 60 days old
The above mentioned conditions will decide whether you will be able to delete QuickBooks Online data and start from scratch or will have to cancel your subscription.
Condition 1: QuickBooks Data Older than 60 Days
If you're using a QuickBooks account that has been active for more than 60 days, then, QuickBooks may not allow you to wipe it due to security reasons. Though, if you still need to clear your account then the best you can do is cancel your current subscription. Once you do that, your data won't be deleted, but you'll need to start a new company too. Follow the below-given steps to Delete company from QuickBooks online:
Step 1: Discard your Current Account
Follow these steps to discard your current account. If you're someone who uses payroll, then you must also cancel your payroll account.
Click on Settings and Go to Account and settings.
Now, navigate to Billing and subscription tab to Cancel subscription.
Follow the steps that appear on your screen to cancel the account.
Note: When you cancel your QuickBooks subscription, it doesn't instantly delete your data. You will still have read-only access to your company data for one year. To permanently delete your canceled company data, you need to manage your personal data from your Intuit Account.
Step 2: Create a New Company
Go to https://quickbooks.intuit.com/choose-country/.
Enter your user ID and password. Also, the same user ID and password can be used that you used before.
Additionally, sign up for payroll again in the Payroll menu in case you are using payroll.
 Condition 2: Company Data is Less than 60 days Old
If you're somebody who has just registered his account or if your account is less than 2 months old, then you can proceed with the steps mentioned below. These instructions, however, are only applicable to QuickBooks Essentials, Plus, and Advanced users. If you utilize QuickBooks Simple Form, you should cancel and start a new company by following the steps outlined above. You should be aware that deleting your QuickBooks Online data and starting again will not terminate your QuickBooks or payroll subscriptions. However, you will have to reenter any employee or historical information that you want to retain.
IMPORTANT: You shouldn't follow the below-given steps if you are using QuickBooks Online Accountant. It will cause damage to your account that you won't be able to recover. What else you can do is import a blank QuickBooks Desktop file to start over. 
Firstly, sign in to your QuickBooks Online account by clicking Here.
Change the URL to include /purgecompany. 
For Example: URL shows https://qbo.intuit.com/app/homepage, change to: https://qbo.intuit.com/app/purgecompany.
A summary of the items that should be deleted is given below: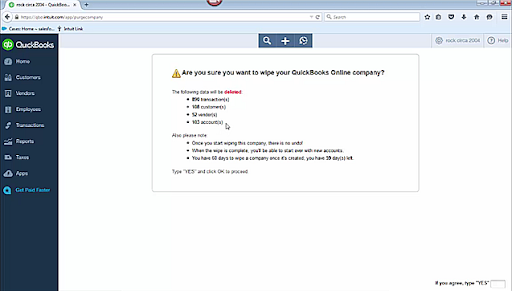 Enter "YES" once the data gets deleted, then, Tap OK.
Once your selections gets completed, Select Wipe Data.
Once the deletion is complete, you will be rerouted to your home page.
NOTE: If you have banks or other third-party apps connected, purging your company can permanently damage these connections for this company.
Alternate Way to Manage or Delete Specific Customer and Restart it in QBO
Since deleting the customer name would remove the customer permanently from QuickBooks. An alternative to this is to hide the customer name and manage it on the files.
You can also merge any related or identical names to organize them.
IMPORTANT: Before installing and starting the QuickBooks Contact Sync Tool, make sure you update QuickBooks Desktop.
Hide a Customer Name
Click on the Customer Center at the top of the QB window.
Then, click on the Customers & Jobs option on the left side of your window.
Click twice on the name of the customer whom you wish to hide.
Lastly, select the Customer is Inactive option in the Edit window and click OK.
Merge Customer Names
Click on the Customer Center in QuickBooks and click on Customer and Jobs.
Now, double-click on the customer name you want to remove.
Then, click on the customer name to the name you want to use in the Edit window.
Lastly, click OK and Yes to merge the customer names.
Delete a Customer Name
Start the QB application and click on the Customer Center and Customers & Jobs.
Then, click on the customer name you want to remove, and click Edit.
Then, choose the option Delete Customer: Job to remove the customer from QuickBooks. And repeat the process for every customer you want to delete.
Contact Professionals to Wipe QuickBooks Online Data!
Hope this blog has helped you find the solution you were looking for. If you are still in search of an alternative that can help you delete QuickBooks online data and start from scratch, then get in touch with our experts instantly by dialing QuickBooks Data Service Solutions Helpline Number +1-(855)-955-1942.
Frequently Asked Questions
Question 1: Can I retrieve my past data after once reset my QuickBooks Online file?
Ans: Once you have performed the steps to reset, it will delete your QuickBooks Online file. So, before you reset your file, you can also export your data, reports, lists, and more from QuickBooks Online. 

Question 2: I want to turn off Multicurrency, so do I need to reset my QuickBooks Online file?
Ans: Once you have turned on the Multicurrency option, it is not possible to turn it off. However, if you reset your QBO file, then the multicurrency option will be automatically disabled.

Question 3: If I want to change my home currency, do I need to reset or delete my QuickBooks Online data and start from scratch?
Ans: If you have enabled the Multicurrency option in your QuickBooks account, you will not be able to change your home currency. Only resetting your QuickBooks Online file will allow you to use a new home currency and start from scratch.
Question 4: Do I need to reset or delete my QuickBooks Online data If I want to delete a transaction?
Ans: No, you do not need to reset or delete your QuickBooks Online data if you have created a transaction by mistake and want to delete it. Instead, QB offers you an option to void or delete the transaction itself.
Question 5: Do I need to reset my QB Online data if I have set up a tax rate incorrectly?
Ans: No, you do not need to reset your QB Online data if you have set up a tax rate incorrectly. Currently, there is no direct way to delete a tax rate in QB Online, but you can deactivate it or make edits to an existing tax rate if required.
Also Read Related Post:
Unable To Send Invoices In QuickBooks? Here is a Quick Fix!
Easy Fix for 'QuickBooks Scheduled Backup Not Working' Issue