Any situation could influence the QuickBooks user to start over with a new QuickBooks Online company. If you're using QuickBooks online for the first time, you can simply start over. If you are already using QuickBooks then create a new company. These circumstances might occur due to any glitch or confusion in your company file accounts. In this article, you will find 2 conditions in which you can Delete QuickBooks Online Data And Start From Scratch.
Wondering How to Wipe QuickBooks online data? Well, if that's the query, we would suggest you to get in touch with our experts by giving us a call on our Toll-Free Number +1-(855)-955-1942.
Process To Delete QuickBooks Online Data And Start From Scratch
Here, we have mentioned the two conditions under which you would be able to clear your company's account:
If your books are 60 days old or older
If your books are less than 60 days old
The above mentioned conditions will decide whether you will be able to delete QuickBooks Online data and start from scratch or will have to cancel your subscription.
Condition 1: QuickBooks Data Older than 60 Days
If you're using a QuickBooks account that has been active for more than 60 days, then, QuickBooks may not allow you to wipe it due to security reasons. Though, if you still need to clear your account then the best you can do is cancel your current subscription. Once you do that, your data won't be deleted, but you'll need to start a new company too. Follow the below-given steps to Delete company from QuickBooks online:
Step 1: Discard your Current Account
Click on Settings and Go to Account and settings.
Now, navigate to Billing and subscription tab to Cancel subscription.
Follow the steps that appear on your screen to cancel the account.
Note: If you're someone who uses payroll, then, you must cancel your payroll account too.
Step 2: Create a New Company
Go to https://quickbooks.intuit.com/choose-country/.
Enter your user ID and password. Also, the same user ID and password can be used that you used before.
Additionally, sign up for payroll again in the Payroll menu in case you are using payroll.
Condition 2: Company Data is Less than 60 days Old
If you're somebody who has just registered his account or if your account is less than 2 months old, then you can proceed with the steps mentioned below. These instructions, however, are only applicable to QuickBooks Essentials, Plus, and Advanced users. If you utilize QuickBooks Simple Form, you should cancel and start a new company by following the steps outlined above. You should be aware that deleting your QuickBooks Online data and starting again will not terminate your QuickBooks or payroll subscriptions. However, you will have to reenter any employee or historical information that you want to retain.
IMPORTANT: You shouldn't follow the below-given steps if you are using QuickBooks Online Accountant. It will cause damage to your account that you won't be able to recover. What else you can do is import a blank QuickBooks Desktop file to start over.
Firstly, sign in to your QuickBooks Online account by clicking Here.
Change the URL to include /purgecompany.
For Example: URL shows https://qbo.intuit.com/app/homepage, change to: https://qbo.intuit.com/app/purgecompany.
A summary of the items that should be deleted is given below: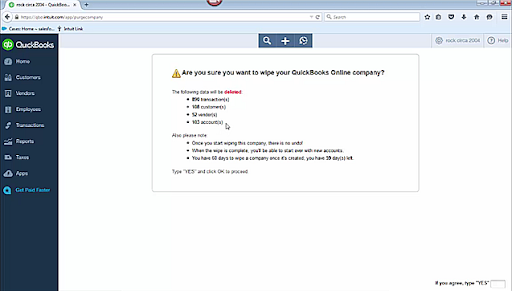 Enter "YES" once the data gets deleted, then, Tap OK.
Once your selections gets completed, Select Wipe Data.
Once the deletion is complete, you will be rerouted to your home page.
NOTE: If you have banks or other third party apps connected, purging your company can permanently damage these connections for this company.
Contact Professionals to Wipe QuickBooks Online Data!
Hope this blog has helped you find the solution you were looking for. If you are still in search of an alternative that can help you delete QuickBooks online data and start from scratch, then get in touch with our experts instantly by dialing QuickBooks Data Service Solutions Helpline Number +1-(855)-955-1942.