For every business, the safety of their data is crucial. QuickBooks is responsible for managing financial data for thousands of companies around the world. Intuit developers understand users' needs and thus developed a feature of creating a company file backup and saving it. It protects user data in case of a hardware failure or an attack of a virus. But there are certain situations in which which users are Unable to backup QuickBooks company file for different reasons. There are a lot of components involved in creating a backup of a company file, such as the location where that company file is stored, the device used to store the company file, properties of the company file etc. Failure in any of these can be a reason why QuickBooks won't backup. A few of the error messages associated with this issue are:
QuickBooks was unable to back up your company file. QuickBooks could not copy the company file.
Backup Failed: QuickBooks was unable to back up your company file. QuickBooks could not create a disk image.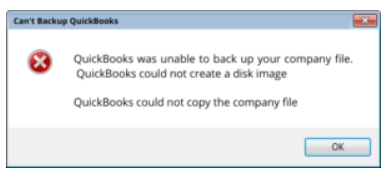 QuickBooks encountered a problem attempting to backup your file? There is nothing to worry about, just reach out to our expert at +1-(855)-955-1942, and they will tell you the easiest ways to fix it.
How to Avoid 'QuickBooks Cannot Backup Company File' Problem?
There are certain things that users are advised to keep in account to avoid the 'QuickBooks cannot backup company file' problem. These are related to the properties of your company file, the location where you save your company file, and a few other things. The list of things that should be kept in mind are:
There are no special characters in the name of the company file.
The name of the company file should not exceed 65 characters.
The size of the company file should be below 3 GB.
The location to save your company file backup should be your local drive and not a server or flash drive.
If the file used is from an older version, make it compatible with the version of QuickBooks you are currently using.  
Causes and Solutions for 'QuickBooks Won't Backup' Problem
There are 5 reasons why QuickBooks won't back up, and we have given their respective solutions. It includes problems with your application, company files, backup path, etc. Let's look at these causes and solutions in detail:-
Cause 1: Compromised Data File
You may face QuickBooks backup failed problems if your data file was compromised. The damage in your company file prevents the backup from getting completed.
Solution: Verify and Rebuild Utility
QuickBooks has inbuilt utilities that can help users check their data file's integrity and fix if it has any damage. These are the steps you need to follow:-
Run QuickBooks Desktop and click on the File tab.
Choose Utilities and then click on Verify Data. QuickBooks will start scanning your file, and a message will pop up telling if there is damage in your company file or not.
If the prompt says that your file has been compromised, click on the File tab.
Select Utilities and then choose Rebuild Data.
Now the utility will start repairing the damage in your company file.
Wait for the process to get over and then rerun Verify utility.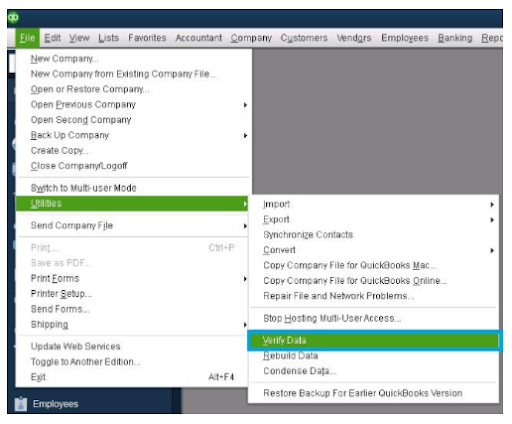 Cause 2: Faulty Backup Path
Your backup file is stored at a designated location following a defined path. If the given path is broken, your system would be unable to backup QuickBooks company file.
Solution: Verify the Backup Directory in Your QB Application
You can check the location where your backup file is stored through the QuickBooks application itself. These are the steps you need to follow:-
Run the QuickBooks Desktop application and Go to the Preferences Menu.
Go to the Backup Options section.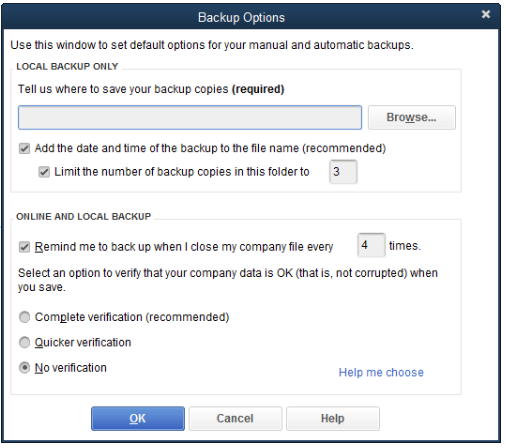 Make sure the backup directory you have chosen is under the Local Backup Only section.
To create the backup file, QuickBooks must have a valid path.
Click on Browse and select the right folder to save your file if the path you found was unavailable.
Cause 3: .ND file is Damaged
Network Data (.ND) files are configuration files that allow QuickBooks Desktop to access a company file in a network or multi-user environment. Damage in these files can be a reason why QuickBooks encountered a problem attempting to backup.
Solution: Rename .ND files for QuickBooks
Running your application after renaming .ND files can generate new Network Data files. These are the steps you need to follow:
Close QuickBooks Desktop and open Windows File Manager.
Follow this path to open ND files:- C:\ Users\ Public\ Public Documents\ Intuit\ QuickBooks \
Browse through the list and find the file with .ND extensions.
Right-click on these files and choose Rename.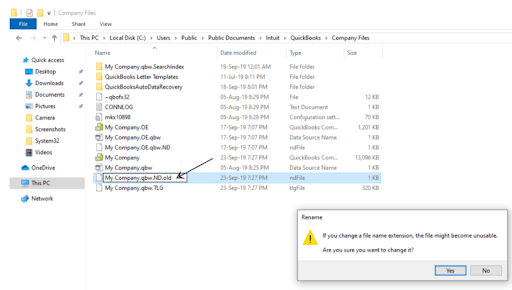 Add .OLDFILE at the end of the file name and press Enter.
Now rerun your QuickBooks application and try to generate a backup.
Cause 4: Inadequate Space in the Storage Device
Check that the storage device you are using to save your backup file has enough space. You get the following message when there is a storage issue:
"To backup your company file, there must be 645106849 bytes of space available on 192.168.0.243, but currently there are only 31055872 bytes available. Please free up some space on this drive and try again"
Solution: Free Up Space
When you see the above message, you should navigate to the storage device where the file is saved. Try deleting some items from the storage device or reducing your file size. You can also change the location where the file is stored.
Cause 5: Outdated QuickBooks Desktop
Outdated QuickBooks application can also be a reason why QuickBooks cannot backup company files. It can be because of certain changes introduced by Intuit or changes in the policies.
Solution: Update QuickBooks Desktop
Updating your QuickBooks application is the easiest solution for this error. Follow these steps to update it:
Close your company file.
Click on the Help menu and choose Update QuickBooks Desktop option.
Go to Update Now tab and tickmark the box beside Reset Updates.
Click on the Get Updates button and update download will begin.
Once the download is completed, rerun your QuickBooks application.
Tap on yes when the prompt to install the update appears.
Rerun your application once again after the update is installed.
Open your company file and try creating a backup.
Call Experts!
So now we hope you know what should be done when your system is unable to backup QuickBooks company file. You have an option to create a backup manually or automate the process. If the problem regarding backup still exists, reach out to an expert at QuickBooks Data Service Solutions Helpline number +1-(855)-955-1942.