QuickBooks Error 6123 is a common error that usually occurs when users try to update, upgrade, restore or open the company file in QuickBooks. Some factors and technical glitches are responsible for QuickBooks Desktop error 6123. We have listed some common reasons that give rise to this error code. The error message reads:
"Error 6123: We are sorry, but QuickBooks can't open your company file".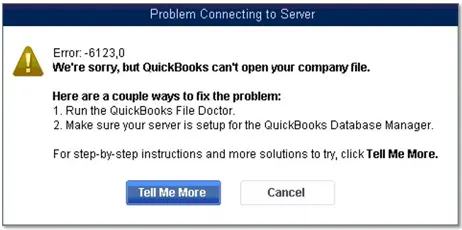 Causes Of QuickBooks Error Code 6123
QuickBooks Error 6123 causes problems when you try to import a file from a network location. The following are the possible reasons:
You are trying to restore the data file from an external storage device.
An insecure network connection also causes error 6123 in QuickBooks.
The QuickBooks company file is corrupt.
Your PC has malware or viruses that affect the operation of the QuickBooks Desktop.
Firewall settings also interrupt the operations of QuickBooks.
You might be running an outdated or damaged version of QuickBooks.
Corrupted Windows can also be a reason.
If you see QuickBooks error code 6123, don't panic. Instead, follow one of these methods to solve the error.
How To Fix QuickBooks Error 6123?
You may experience QuickBooks error 6123, but there are many ways to resolve the error. You can resolve QuickBooks desktop error 6123 by completing the following steps:
Step 1: Check For QuickBooks Desktop Update
When QuickBooks Desktop is not up to date, it starts attracting errors and also affects the performance. So keep your QuickBooks application updated to keep QuickBooks free from bugs. And protect from other issues affecting the end-user experience.
Open QuickBooks> Press Ctrl +1 or F2> get product information window.
Check for the updates and latest releases of QuickBooks.
If the update didn't help you resolve QuickBooks company file error 6123. Then follow the next troubleshooting step.
Step 2: QuickBooks Tool Hub: Install and Run
The QuickBooks Tool hub is a tool that is used to rectify every error that QuickBooks encounters. You can use the Quick Fix My Program tool to refresh QuickBooks's installation and get free from company file and program errors like error 6123.
Follow the steps below to run Quick Fix My Program Tool and install QuickBooks Tool Hub.
Close QuickBooks software> Download the latest version of QuickBooks Tool Hub.
Save the installation file to an easily accessible location like Desktop.
Open the QuickBooksToolHub.exe (downloaded) File
Follow the instructions on-screen on your device.
Agree to the terms and conditions and complete the installation process.
Open the icon- QuickBooks Tool Hub on your Desktop.
Go to Program Problems in the middle-left section.
Choose Quick Fix my Program.
After the program files repairs, check if the issue is gone.
Step 3: Make Use of QuickBooks Tool Hub to Run File Doctor
File Doctor also helps end errors 6123, 0 and fix your company file. It resolves QuickBooks Desktop data issues. Follow these steps to understand it in detail-
Open QuickBooks Tool Hub, click on Company issues
Click on Run QuickBooks File Doctor
Select your company file from the drop-down option in the QuickBooks Tools Hub.
Choose your File and move ahead.
Continue by entering the QuickBooks admin password.
File Doctor will repair your files.
After the repairing process completes, you can check your company file on QuickBooks.
If you still can't open your File, the error is still there. Then move to the next step for further solutions.
Step 4: Restore the Backup
Inside the QuickBooks company file folder, open the QuickBooks backup file folder.
Find the .qbb extension file exactly as the name of your company file.
Copy this file to the local storage of your device.
Restore the company file from the local storage into QuickBooks.
If you are restoring the company file on a new device. Then the case of QuickBooks error 6123, 0 may still irritate you.
Check out the next troubleshooting step to restore your company file on a new device.
Step 5: Use Portable Company File to Restore the Backup
For security concerns, QuickBooks does not allow you to restore your company file on another device and shows error 6123. To troubleshoot this problem, follow these steps-
Go to the File tab on your previous devices' QuickBooks software
Choose to create copy> then select Portable company file.
Tap on the Next> then Type the name for the company file.
Please choose the location to keep the File and click Save on it.
Move the portable company file to the new device.
Open QuickBooks on a new device>Click the File tab> Choose to Restore a Portable File> tap Next.
Find and open the File with the .qbm extension.
Follow the instruction given on-screen to restore the file page.
Tap on Next and Save, then open the company file.
Need Further Assistance To Fix QuickBooks Desktop error 6123?
If you are still seeing QuickBooks Error 6123 and can't access the company file, the reason might be something else. For further guidance, you can reach out and talk to our team of experts for help by dialing QuickBooks Data Service Solutions Helpline Number +1-(855)-955-1942. Our experts will help you understand what is causing the error and how to fix it.