QuickBooks has brought in regular updates in order to make its platform as accessible as possible. A part of it is the QuickBooks web connector tool that enables you to share data between QuickBooks Desktop and any third-party web application. QB Web Connector is free to download software that uses QuickBooks SDK or QB POS SDK. Just like any other application, a web connector is also subjected to errors, and QuickBooks Web Connector Error QBWC1085 is one of them.
What Does QBWC1085 Web Connector Error Means?
The malfunction of the QuickBooks Web Connector directly affects the ability of QB to exchange data with any third-party web-based program. The Quickbooks web connector error QBWC1085 usually occurs when the web connector is unable to write data to log file or unable to open the existing log file. When you encounter the QBWC1085 error, you may see a variety of error messages on your screen as follows:-
QBWC1085: QuickBooks was unable to write to the log file. QuickBooks will open without writing to log file.
QBWC1085: There was a problem with the log file. QuickBooks Web Connector will continue without the log file.
Exception TypeError: Unknown name
Effect of QuickBooks Web Connector QBWC1085 on Application
The major effect of QuickBooks Web Connector error QBWC1085 on your application is that you won't be able to connect the QuickBooks to any third party web application and thus a number of functions will stop working automatically that is dependent upon the web applications and hence the working of your books will get hampered
Major Causes for QuickBooks Error Code QBWC1085
The primary cause behind QBWC1085 log file error is the damaged or inaccessible QBWCLOG.TXT file that is used by the Web Connector program to write log details. Other causes may include the damage in the web applications or any corruption in the QuickBooks itself. You might see "QBWC1085: There was a problem with the log file. QuickBooks Web Connector will continue without the log file." as an error message.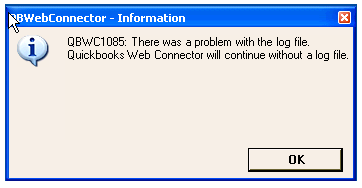 TroubleShooting Solutions to Fix QuickBooks Web Connector Error QBWC1085
There are two cases when you encounter QB error QBWC1085 on your system
If you're not using any Third Party Web application
Error Occurs when you're using any 3rd party web app
In both cases, the troubleshooting steps are different depending on the scenario, lets have a look.
If You're Not Connected to any Third Part Web Application
If you are not connected with any third-party application, just remove Web Connector from the startup menu and continue your work. Here are the steps to do so-
Run Windows as Administrator
You need to follow this path C:\ProgramData\ Microsoft\Windows\Start Menu\Programs\Startup.
Further, Delete the QuickBooks Web Connector.
Now, Restart your system and open QuickBooks Application.
Getting QBWC185 Error When Using Third Party Application
To get rid of QBWC1085 error message, a few of the steps are a bit technical in nature, and if you find it difficult to follow, we will advise you to reach out to QuickBooks Data Service Solutions team at +1-(855)-955-1942.
Method 1- Rename the QBWCLOG.TXT file
If there is an issue with the QBWCLOG.txt file and the QB web connector is unable to access the log file or can't write to it due to any reason, then rename the QBWCLOG.TXT and it'll resolve your issue instantly.
Shut down QuickBooks and Web Connector altogether.
Now, Go to C:\ProgramData\Intuit\QBWebConnector\log.
Then Rename QWCLOG.TXT to QWCLOGOLD.TXT.
Restart Web Connector.
After restarting your computer, Open QuickBooks and you need to log into your third-party programme.
Method 2- Add Web Connector to Startup Menu
If the Quickbooks web connector is not present in the startup menu, then you can encounter the QBWC1085 error message, in such a scenario, simply add the QB web Connector to the startup menu to rectify this error message.
Press Windows + R on the keyboard and type msconfig.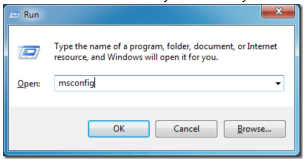 Press OK and tap on the Startup tab.
Now checkmark the QuickBooks Web Connector program in the list.
Tap Apply and press on OK.
Now restart Windows.
Let Experts Help you to Resolve QBWC1085 Error Message!
So we hope that you are now well aware of what you need to do in case there is a QBWC1085 problem with the log file. We also discussed what the possible triggers and symptoms of this code are. QuickBooks can help you streamline your business functions, and thus every business owner should give it at least one try. If you still find any issue in fixing QuickBooks Web Connector Error QBWC 1085, get in touch with our experts by giving us a call on QuickBooks Data Service Solutions Helpline Number +1-(855)-955-1942.