Many QB users reported that they encountered QuickBooks EWS UEXP Error, some while trying to update the bank account information in the payroll service, some while trying to download a payroll update or activating the retail payroll subscription. Many users faced this UEXP error while trying to invite employees to the workforce account in QuickBooks Desktop. Usually, the error messages that appear on the screen are as follow:-
"We are having difficulties verifying your account status. Error=UEXP" 
"EWS Error - UEXP, We're having a problem verifying your account status, contact us for help resolving this issue"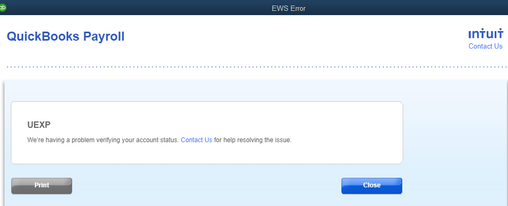 QB users are unable to access any Payroll or Banking information when they face this issue and all the payroll-related work comes to a halt.
Major Causes of QB Payroll Error EWS UEXP
QuickBooks Desktop Error UEXP can occur due to mainly the following reasons in QB assisted, enhanced, or another payroll service. Outdated version and inactive subscription are the major ones but you should check with all the below:-
Outdated version of QuickBooks Desktop.
An e-File or e-Pay in your current company file has become outdated after you upgraded your QuickBooks Desktop.
Your Payroll subscription is not active in the QuickBooks Desktop.
Either your Liscense is disabled.
Special character in your Company name, COA, contact name or address may also trigger UEXP error in QB.
Tested Troubleshooting Solutions to Fix Quickbooks EWS Error UEXP
As the QB UEXP error occurs in various scenarios such as while downloading payroll updates, activating retail payroll subscription, or updating the bank account information in QB Desktop, the troubleshooting methods also vary depending upon the scenario.
When QuickBooks Error UEXP Arise while trying to Download QB Desktop Payroll Updates
If QB is unable to verify your account status while you're trying to download payroll updates, then you can try updating the QB Desktop as well as can remove the old e-pay and e-file from your payroll.
Solution 1: Update your QuickBooks Desktop Application
An outdated version of the QB application is one reason for QuickBooks Desktop EWS Error UEXP. The simple way to fix this issue is to upgrade your Desktop application-
Close down your company file and then shut down QuickBooks.
Click on the Windows start menu.
Look for QuickBooks Desktop and then right-click the icon, choose Run as administrator.
No Company Open screen will pop up, now go to the Help tab and then select Update QuickBooks Desktop.
Now open the Options tab. Choose Mark All and then tap on Save.
Select the Reset Update checkbox on the Update Now tab.
Once you're ready, choose to Get Updates.
Wait for the updates download to finish and then close down QBD.
Now Restart the application and tap Yes on Install now pop-up.
Wait for the installation process to get over and then restart your system.
Solution 2: Remove Old e-Pay and e-File from Company File
We mentioned that few e-Files and e-Pay in a company become outdated when we update our application, and thus, the error arises. Follow these steps to remove those outdated files and pay-
Firstly create a backup of your company file.
Tap on the Employees menu and then choose My Payroll Service. Now click on the Manage Service key.
Highlight the appropriate payroll service in the QuickBooks Service Keys window and do the following:-

For QuickBooks Desktop Direct Deposit user:– Select Edit. Tap on Next and then Finish.
For those who don't use QuickBooks Desktop Direct– Select Remove. Press Alt+0 on the Manage Service Key window in order to directly remove payroll service.
Select Yes for the next two messages and it will remove all the old e-File and e-Pay agreements from the company file.
Now you are safe to enter your new service key (or existing one, if applicable) that is useful for the QuickBooks Desktop environment.
When QuickBooks Error UEXP arise while Activating Retail Payroll Subscription
In case you are getting this error despite being connected to the internet while you are trying to activate a retail payroll subscription, there is a high possibility that the error is caused because of disabled license or special characters in the Company name, legal address, Charts of Accounts or the contact name.
You may come across QuickBooks Error 15102 while updating or downloading QuickBooks Payroll, we have a dedicated blog on how to resolve QuickBooks Error 15102 with 4 effective methods to tackle this error or call us directly at +1-(855)-955-1942.
Solution 1: Check for special characters in Company name, legal address, Charts of Accounts or Contact name
QuickBooks has a list of acceptable characters, and in case any other special character is used, QuickBooks Payroll Error UEXP might arise. The list is as follows:-
Alpha-numeric: A-Z, a-z, 0-9
Comma: ,
Dot or period: .
Question mark: ?
At symbol: @
Ampersand: &
Exclamation point: !
Number/pound sign: #
Single quote: '
Tilde: ~
Asterisk: *
Space: ( )
Underscore: _
Minus sign/hyphen: –
Semi-colon: ;
Plus sign: +
If your company name or contact names, or address contains any special character other than those mentioned in the list, you need to change them. Follow these steps in order to do so –
Tap on Settings and choose Company Settings.
Select Company from the left menu.
Choose Edit in the Company Name section in order to edit the entry.
Erase all the invalid special characters.
Tap on Save and then Done.
Check your lists by using the left menu and look at the sales, Expenses, or Employees centers. Look for any special character present there and make changes if required. All other lists can be accessed by clicking the Settings button in the Toolbar, then All Lists. Examine each list for any entries with special characters in their names and make any necessary changes.
Solution 2: Check Your QuickBooks License Validity
Look for the validity of your QuickBooks license. You will have to repurchase the subscription in case the validity has relapsed. If your subscription is still valid yet it shows that your license is disabled, you can contact the QuickBooks support team asap.
Avail QuickBooks Professionals Help with EWS Error UEXP!
Though you can easily fix the Intuit Quickbooks error UEXP by following the troubleshooting guide but still if you're not tech-savvy or want to keep all your data safe while fixing the error, then we would suggest you reach out to our experts by giving us a call on QuickBooks Data Service Solutions Helpline Number +1-(855)-955-1942.