Have you ever considered what you'd do if QuickBooks suddenly stopped working and your screen pops up with 'QuickBooks Has Stopped Working'? The identical error notice displays when the user tries to open QuickBooks again after it has quit. A few damaged Windows operating system files or missing QBWUSER.INI files are some of the common reasons behind this error. When it takes place, the error message appears on your screen stating:
"QuickBooks has stopped working" A problem has caused QuickBooks to stop working correctly. Windows will close the program & notify you if a solution is available.

or

"a problem caused the program to stop working correctly QuickBooks"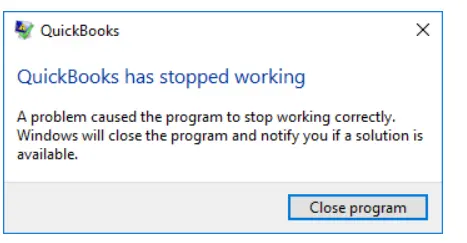 We understand that it must have been extremely frustrating for you to get this QuickBooks Not Responding error as it brings all your work to a standstill. Thus, you need to fix it at the earliest. Before you do that, you must get aware of the possible reasons that trigger this issue, it surely makes troubleshooting easier.
Don't know why QuickBooks has stopped working while opening on your Windows 10 or why QuickBooks Desktop Won't open! Get to know the answers and quick solutions by connecting with our experts at our Toll-Free Number +1(855)-955-1942.
Why is Your QuickBooks has Stopped Working?
Did you get stuck with QuickBooks has stopped working error on Windows 10 while opening the QuickBooks Desktop application? Or maybe just the program is frozen but you didn't receive an error. Well, there can be several reasons behind it. Below we have listed all such possible causes:
The name of your company file may be too long, and thus it is causing the application to lag, and hence your QuickBooks is crashing when opening.
Damaged or missing QBWUSER.INI file.
Another reason behind this error on Windows 10 is a corrupt hard drive.
Maybe your QuickBooks Desktop installation or program files are damaged, so your Quickbooks has stopped working.
Damaged Windows operating systems can also result in QuickBooks setup exe has stopped working error.
ALSO READ: Resolve QuickBooks Error 40001- Unable To Activate Direct Deposit
Troubleshooting Solutions To Fix QuickBooks Not Responding Error
Here, we have listed some of the effective resolution methods following which you can get rid of QuickBooks not responding error:
Solution 1: Use the Quick Fix My Program under QB Tool Hub
Follow the below-given steps to resolve QuickBooks has stopped working error:
Step 1: Download and install the QuickBooks Tool Hub
You can resolve several issues like QuickBooks is not responding with the help of QuickBooks Tool Hub. To get the best results, you must use Tool Hub on Windows 10, 64-bit.
Note: If Tool Hub is already installed on your system and to know which version you have. Go to the Home tab, where the version will be displayed on the bottom right. Else, click on About to see the current version.
Open the downloaded file (QuickBooksToolHub.exe) and install it by following the instructions that appear on your screen. Further, also agree to the terms and conditions.
When the install will get completed, an icon will display on your Windows desktop, double-click to open the tool hub. (If you won't be able to find this icon, you may select the program by searching in Windows for QuickBooks Tool Hub. )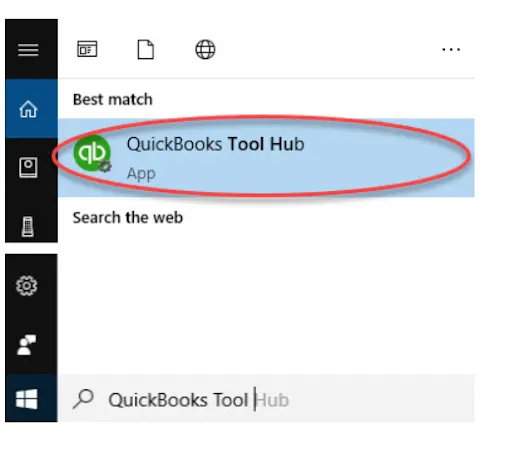 Step 2: Run the Quick Fix My Program
The Quick Fix My Program will shut down any open background processes that QuickBooks may be using. Further, to resolve the issue QuickBooks not working after login, it will run a quick repair on your program. And thus, it will help you to fix the Quickbooks has stopped working issue.
Open QuickBooks Tool Hub and select Program Problems.
From there, select Quick Fix my Program and wait for the scan to complete.
Once done, open the QuickBooks Desktop application and then, the company file.
Solution 2: Run the QuickBooks Install Diagnostic Tool from the QB Tool Hub
The QuickBooks Connection Diagnostic Tool helps you detect and fix the QuickBooks Has Stopped Working error automatically that takes place while you try to access your company file.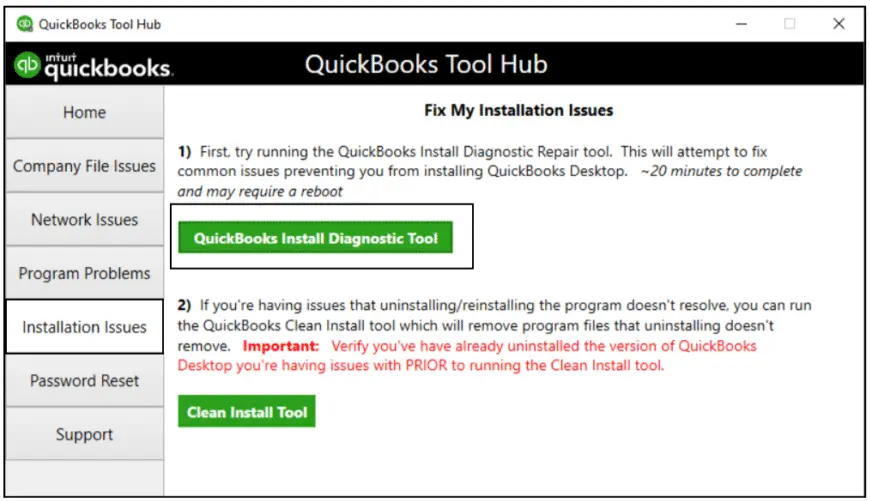 Open the QuickBooks Tool Hub.
Now, Select Program Problems from Tool Hub.
Then Click on QuickBooks Program Diagnostic Tool. Let the tool run. It will take atleast 20 minutes.
Once the tool finishes, you have to restart your computer and open QuickBooks Application.
If you are getting QuickBooks Error 6094, here is a dedicated blog to get the solutions to this error.
Solution 3: Rename the QBWUSER.ini file to Fix QB Stopped working issues
If the QuickBooks Has Stopped Working Error has taken place due to a damaged or missing QBWUSER.ini file, then you can resolve it by renaming the QBWUSER.ini file.
Note: Once you rename the QBWUSER.INI file, it will delete all the company files that you opened earlier. And thus, you would have to open it manually again.
Firstly, click on the Windows icon.
Then, simultaneously press the Windows + E key to open Windows File Manager.
Then, go to the QuickBooks folder that is located in the C drive: Users[Your user name]AppDataLocalIntuitQuickBooks [year].
Now, search and right-click on the QBWUSER.ini file and click on the Rename option.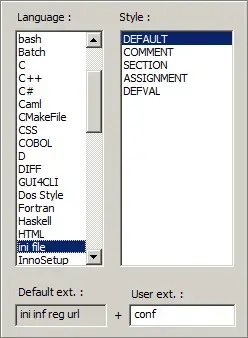 Further, type .OLD at the end of the file name and save it.
Lastly, try to open the QuickBooks application once again.
Important:
After renaming either QBWUSER.ini or EntitlementDataStore.ecml, If the program opens, then you must try to open a sample company file. However, you must copy your file to a different folder, if you are unable to open a sample company of your own. Try to Open it and if it opens, then, damaged folder or folder permissions might be the reason.
Moreover, if you won't be able to sign in to your file even after that, then, the probability is that your company file is damaged. Thus, you must try to restore an earlier backup of that file.
If you're unable to access your file or when QuickBooks fails to start, then, it can be due to damaged QuickBooks installation.
Solution 4: Scan and Repair Bad Sectors on Hard-Disk
Another reason why QuickBooks not responding in Windows 10 after login is corrupt or badly segmented Hard-Disk of the computer system on which QB is installed. So to fix the Windows 10 issue, you can try scanning and repairing the bad sectors on Hard-Disk.
Simultaneously press Windows + E keys to open Windows File Manager.
Right-click the C drive and select Properties.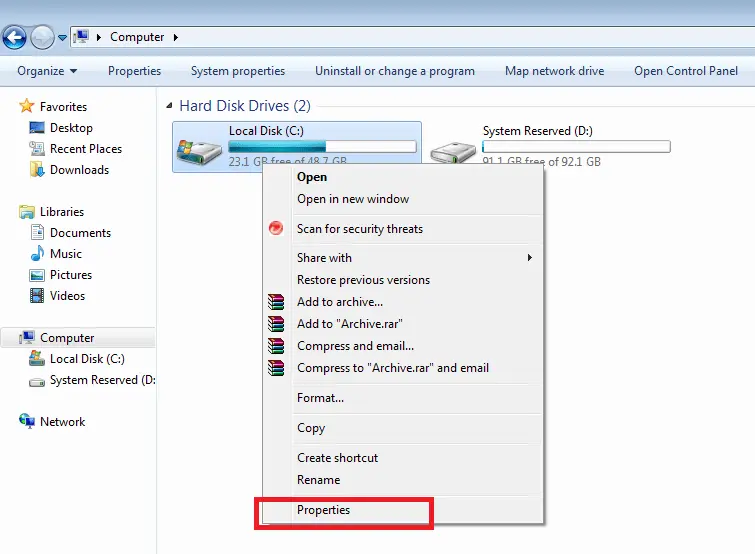 Go to the Tools menu and click on Check now.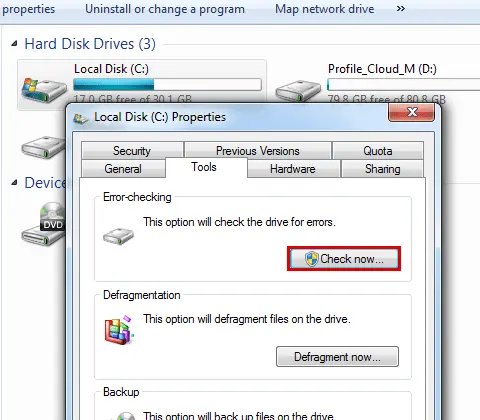 Make sure to mark the Automatically fix file system errors and Scan for and attempt recovery of bad sectors options.
Click on Start and wait until Windows completes the scan and repair process.
Solution 5: Reinstall QuickBooks using Clean Install Tool
Many times, you might end up with QuickBooks Has Stopped Working error due to damaged program files. In such a scenario, you must run a basic reinstall when the same issue affects more than one of your company files. However, if that doesn't work, you may do a clean install by using the QuickBooks Clean install tool. It resolves all such issues that restrict you from opening the company file, display and template problems, and a few other situations. It replaces the QuickBooks system files on your computer. Moreover, you don't need to worry about your accounting data as a clean install won't affect it, since your company file and everything it holds isn't involved at all.
Solution 6: Verify Internet Connectivity
An unstable internet connection can also be a reason behind QuickBooks not working in QB 2011, 2015, 2016, 2017 and later versions.
To resolve it, we would suggest you verify your internet connectivity. For that, open the Internet Explorer on your system and access any website of your choice. If you are able to access the website through the browser, then it means that your internet connectivity is intact, and it is not causing any problem.
However, if you are unable to do so, then you have to check your internet connection settings for any misconfigurations.
ALSO READ: Easy Guide to Transfer QuickBooks To New Computer
How to Fix QuickBooks has stopped working After the Windows 10 Update?
Sometimes, you might end up with this QuickBooks Not Responding after Windows 10 update. So if this happens, then follow the steps given here to resolve it.
For this, proceed to the Control panel and then hit on the Windows firewall.
Then, choose Advanced settings and hit on Outbound rules options.
Then move ahead, click the New rule tab, and opt for the Program checkbox.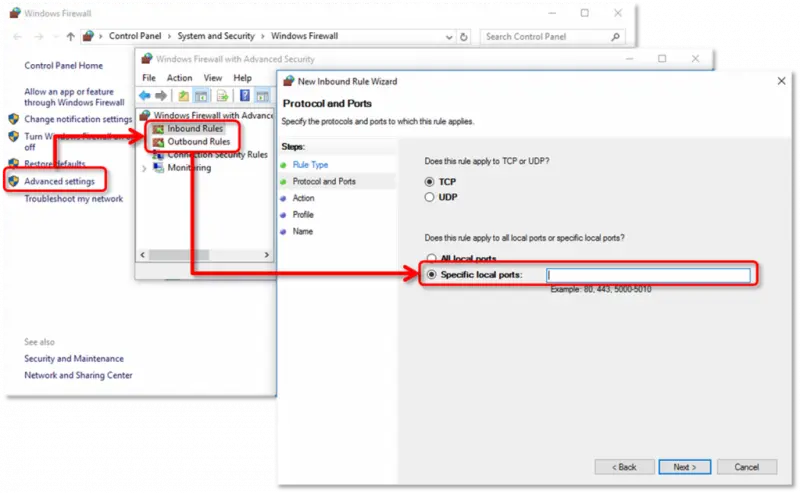 Then, hit on Next and check the Program path option.
And copy the location of your QB.
Then, you need to hit on Block the connection option and mark the Public, private, or domain checkbox.
Now Rename it and click the Finish tab.
Get QB Professionals Help If your QuickBooks not working!
Hopefully, the above-provided resolution methods would have helped you fix QuickBooks has stopped working error. However, if you get stuck while following any of the above-listed solutions, we would suggest you get in touch with our experts by dialing QuickBooks Data Service Solutions Helpline Number +1(855)-955-1942.
Frequently Asked Questions
1. Why do I face QuickBooks has stopped working issue?

You may face QuickBooks has stopped working if the issue is with your company file, QBWUSER.INI, damaged hard drive or installation file. You may also face the issue of you have damaged Windows operating systems on your system.
2. What should I do if QuickBooks has stopped working?

 If your QuickBooks has stopped working, try fixing this issue by Using the Quick Fix my Program, running the QuickBooks Install Diagnostic Tool, or renaming the QBWUSER.ini file. You can opt for the other solutions as well that are given in the article above. You can also contact us for any kind of additional support.

3. How to download Clean Install Tool to rectify QuickBooks not responding issue?

To download and run the clean install tool, first download the QB Tool Hub. Then open the downloaded file and follow the on-screen instructions, and complete the installation. After installation, when you open the QB Tool Hub, then under the Installation Issue, you will find the Clean Install Tool. You then just need to select your QB version, and Clean Install Tool will run and rectify the issue.