You would have ended up with various issues due to damaged company files. Of these, one is QuickBooks Error 6000 832 that indicates that there is a hosting issue with the .ND file. It may also occur when you try to host the company file on a separate system or server. When it occurs, the following error message appears on your screen:
"We're sorry. QuickBooks encountered a problem Error codes: (6000, -832)."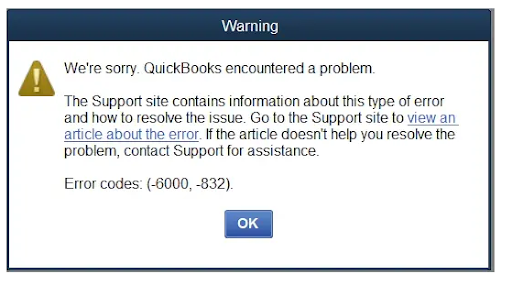 As all the crucial data and sensitive information is stored in your company file, this error will restrict you from opening it and thus, you need to fix it at the earliest. But before you do so, there are some common causes that you must be aware of. We have covered all the possible reasons ahead in this blog.
What Are The Causes Of QuickBooks Error Code 6000 832?
Below we have mentioned some of the common causes that may result in QuickBooks error 6000 832:
One of the reasons is the outdated QuickBooks application.
Damaged QuickBooks components can result in QuickBooks error code 6000 832.
The .ND and .TLG files might not be functioning properly.
There might be a possibility that the hosting mode is turned on.
Troubleshooting Solutions To Fix Error 6000 832 In QuickBooks Desktop
Here, we have listed all the possible effective troubleshooting solutions by following which you would be able to fix QuickBooks error 6000 832:
Solution 1: Update QuickBooks application to the latest release
Before you proceed with other troubleshooting solutions to fix error 6000 832 in QuickBooks desktop, you can try to update QuickBooks Desktop to the latest release. It will help you download the changes, improvements, and fixes that were made to QuickBooks. For doing so, you must proceed with the below-given steps:
Open the QuickBooks application, and go to the Help menu.
From the drop-down, click on the Update QuickBooks option followed by Update Now.
After that, mark the checkbox next to Reset Update.
Lastly, click on Get Updates.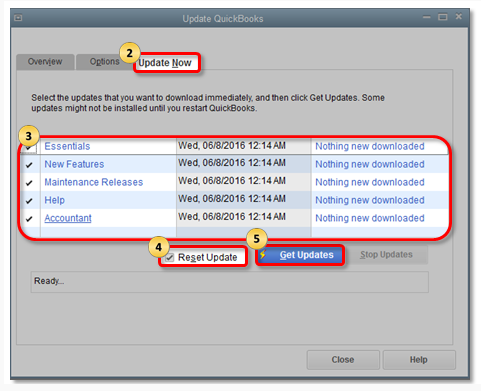 Solution 2: Download the QuickBooks Tool Hub & run File Doctor
You can try fixing the damaged QuickBooks components if any to resolve QuickBooks error 6000 832, with the File Doctor Tool. But for that, you have to download and install the QuickBooks Tools Hub (1.5.0.0) and prefer using it on Windows 10, 64-bit. For this, make sure to close the QuickBooks program. Once done, you have to run the QuickBooks File Doctor. For doing this, you can follow the below-given steps:
Open the Tool Hub and select the Company File Issues tab.
After that, select the Run QuickBooks File Doctor option.
Further, select your company file from the drop-down menu. If you couldn't find your file, click on Browse and search to locate your file.
Click on check your file option and then, choose Continue.
When prompted, enter your QuickBooks admin password and click on Next.
Solution 3: Rename the .ND and .TLG files
Corrupted or damaged .ND and .TLG files can result in QuickBooks error 6000 832. To resolve this, you can try renaming them. It will not cause you to lose QuickBooks data. These files are automatically re-created when you rescan using the QuickBooks Database Server Manager and when you open your company file. Here are the detailed steps to perform the troubleshooting:
Firstly, you have to open the folder in which you have stored your company file.
Search the files that have the same file name as your company files but with extensions .ND and .TLG.

company_file.qbw.nd
company_file.qbw.tlg
Right-click each file and select the Rename option. Add the word OLD at the end of each file name.
Example: company_file.qbw.nd.OLD
Try opening the QuickBooks application once again and then, sign in to your company file.
Solution 4: Turn off the Hosting mode
You're advised to have only one PC/Server to host the company files. Also, to make sure that you have turned off the hosting mode, you must follow the below-given steps:
Press the F2 key to open the Product Information window.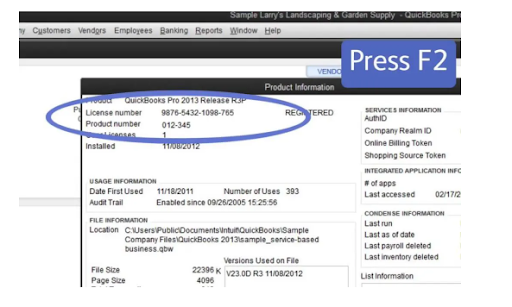 There, search for the Local Server Information and ensure that Hosting is turned off.
Find An Expert To Fix Error 6000 832!
Hopefully the troubleshooting solutions mentioned in this blog would have helped you resolve QuickBooks error 6000 832 without much trouble. However, if you're still stuck with the same issue due to any reason, then we would suggest you to get in touch with our experts by giving us a call on QuickBooks Data Service Solutions Helpline Number +1-(855)-955-1942.