QuickBooks offers you an option to connect your bank accounts with the application. It helps you keep an orderly record of your transactions in one place. But sometimes, users face QuickBooks error code 176, which does not allow users to connect their bank to QBO. There is not much information available regarding this error right now, and the technical team of Intuit is still in the process of figuring out the causes behind it. When this error occurs, an error message appears on your screen stating-
"Something unexpected happened, and we couldn't connect to your bank.
Try signing in again, and check for typos and other errors. If that doesn't work, try signing in on your business banking site. (176)"
Troubleshooting Steps to Overcome QuickBooks Error 176
Users have been facing difficulties regarding connecting their bank account to the application, retrieving bank transactions and accessing other QuickBooks banking features. While there is no permanent solution to this error as of yet, there are multiple things that users can do in order to access these features.
Method 1- Sign in Through Incognito
There is a possibility that the 176 Error in QuickBooks is caused because of cache and cookies. Logging in through an incognito window can help you access the features as it takes care of browser-related issues. The steps to access the incognito window are different for different browsers-
For google chrome press Ctrl + Shift + N
For Firefox press Ctrl + Shift + P
For safari press Ctrl + option + P
Method 2- Disconnecting and Reconnecting Bank Account
If your bank account is already connected with QuickBooks and you face QuickBooks error message 176, try disconnecting and then reconnecting it. Follow these steps in order to do so:-
Tap on the Banking or Transaction Tab, then choose Banking.
Now select the tile for the bank account.
Click on the Pencil icon and then choose Edit account info.
Check the box beside Disconnect this account on save.

NOTE– In case your QB application starts downloading a new transaction, you will not be able to see the option to Disconnect the account. You need to wait for a few minutes until the update is finished and then try again.
Method 3- Manually Download the Transaction List
QuickBooks download all the latest transactions once you connect online bank and credit card accounts. You don't have to worry if you aren't receiving the most recent transactions or if updates appear to be frozen. Here's how you can download these transactions.
Note- The application will not download bank transactions past 90 days. In case you are looking to download transactions which are more than 90 days old. You'll have to manually upload transactions older than 90 days into QuickBooks Online if you want them.
Step 1- Start with a Manual Download
Generally, QuickBooks download the most recent transactions at 10 p.m. PT. If the download feature is not working due to QuickBooks error code 176, you can manually download the recent transactions on your system. Follow these steps in order to do so-
Tap on the Banking menu or Transaction Menu.
Click on the Banking Tab.
Lastly, Select Update.
This automatically updates all of your linked bank and credit card accounts. If QuickBooks downloads additional transactions, the number of transactions in each account tile will increase.
Tip- If a notification about extra authentication appears, continue the update by following the on-screen instructions. Although not all banks demand this, some prefer it as it increases security.
Step 2: Verify Your Bank or Credit Card's Website
In case your downloads are slow or stuck, there is a possibility that the issue lies with your bank's website.
The first thing you need to do is get the URL used by QuickBooks to connect-
Tap on the Banking or Transaction Menu.
Choose Link account.
Note- You don't have to add an account; you just need the listed URL.
Look for your bank and select it.
Now copy the URL that is mentioned for your bank.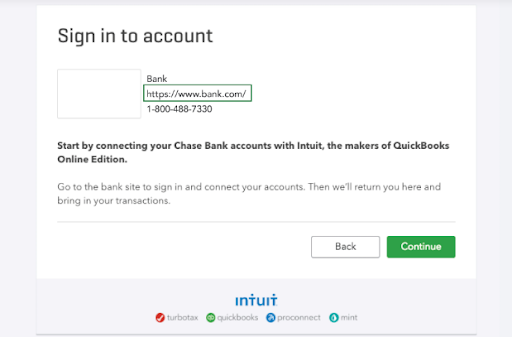 Use the copied URL to log in to your bank or credit card's website.
If you are able to sign in, it means that the issue is not that big. You need to follow these steps now-
Check messages, notification and alert options for your account.
Look if there are any display issues on your website. QuickBooks might not be able to download new transactions because of it.
Look at the announcement section of your bank's website to see any new updates regarding security announcements.
In case everything is fine, you need to go back to QuickBooks now and follow step 1.
Step 3- Updating Bank Information in QuickBooks
If you made any changes in your information on your bank's website, such as account number, username or password, you are required to update the similar change in QuickBooks-
Tap on the Banking menu or Transaction Menu.
Click on the Banking Tab.
Choose the tile for the bank account. Then select the Edit icon.
Tap on Edit sign-in info.
Now update the required information.
Get Experts help to fix QuickBooks Update Error 176!
So this has been all about QuickBooks Error 176. As we mentioned, there is no concrete evidence about its reasons, but you know how it affects your functioning. We also discussed different methods to access the feature that are blocked due to QB error 176. QuickBooks have more tools to help you manage your business books, and everyone should use them. However, if you find the above steps a bit complex or want an expert to help you, then we would suggest you reach out to our experts by giving us a call on QuickBooks Data Service Solutions helpline Number +1-(855)-955-1942.