Apart from managing your company's sales and accounts payable and receivables, QuickBooks also looks after your payroll and electronic banking transactions. However, you might end up with a QuickBooks server busy error when you access the other components and programs. When it occurs, an error message appears on your screen that states:
Fix Error: Server Busy. This action cannot be completed because the other program is busy
The error message comes with three prompts: Switch to, Retry and Cancel. If you don't respond to the message, the Server Busy message remains on your screen and all the ongoing tasks will put other tasks to a standstill. It mainly occurs when QuickBooks is unable to complete the data exchange process. However, there are several other reasons as well. Unless the user is aware of the possible reasons it might become difficult to resolve it. To help you get aware of it, we have listed all the possible reasons in the next section.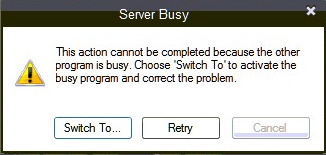 Main Causes Of QuickBooks Desktop Error: Server Busy
You might end up with a QuickBooks server busy error when some other is accessing your company file. However, there are several other reasons as well. Below we have listed all such possible causes behind QuickBooks desktop error: server busy:
It occurs when some other program that QuickBooks is trying to work with is waiting for a response.
Server busy error occurs when the windows update might running in the background.
Another reason is when the QuickBooks desktop is unable to shut down properly.
Any conflict with Intuit ProSeries or profile might result in a QuickBooks server busy error.
The network on which you are working might not be having sufficient resources to run the QuickBooks software.
Troubleshooting Solutions To Fix QuickBooks Error: Server Busy
QuickBooks will prompt you with a QuickBooks 2011 server busy issue If so many programs are running in the background. Here's how you can resolve it so you can get back to business.
Solution 1: Close All Background Open Programs
Make sure to close the other programs running in the background to keep the QuickBooks application up and running. Alternatively, you may close the QuickBooks application and then open it once again.
Note: Ensure that none of the dialog boxes are open in other programs. For example, Microsoft Word might be having an open dialog box that asks you to save a document.
You have to configure your firewall settings and antivirus, If your Windows firewall blocks internet access for a particular QuickBooks program or files.
Don't forget to close Google Desktop, Windows Defender, Vista Security, and Pivot Software Control.
You might have to disable Spy Sweeper temporarily. Else, you may run it in Gamer mode while approaching the QuickBooks Desktop application.
Aren't you able to fix the QuickBooks server busy error with the above method? Don't worry! You can jump to the next one.
Solution 2: Check for the Latest Windows Update
Go to the Windows taskbar.
You have to check whether Windows is installing an update or not. (If an update is being installed or if it needs to be installed) then, you must complete it first.
Lastly, restart your system as guided by Windows. (However, if you do not find any Windows update happening), you may proceed to the next resolution method to fix the QuickBooks server busy error.
Solution 3: Use the Quick Fix my Program
Follow the below-given steps to resolve the QuickBooks error: server busy
Step 1: Download & Install the QuickBooks Tool Hub
You can resolve several issues like QuickBooks server busy error with the help of QuickBooks Tool Hub. To get the best results, you must use Tool Hub on Windows 10, 64-bit.
Note: If Tool Hub is already installed on your system and know which version you have. Go to the Home tab, where the version will be displayed on the bottom right. Else, click on About to see the current version.
Open the downloaded file (QuickBooksToolHub.exe) and install it by following the instructions that appear on your screen. Further, also agree to the terms and conditions.
When the installation gets completed, open the tool hub (you need to double-click the icon on your Windows desktop).
Note: Search in Windows for QuickBooks Tool Hub (If you cannot find this icon) and then you can select the program. 
Step 2: Run the Quick Fix my Program
If you come across a QuickBooks server busy error while using the QuickBooks Desktop program, then, you must run the Quick Fix my Program. It will shut down any open background processes that QuickBooks may be using. Further, it will run a quick repair on your program to resolve the Error: Server busy in QuickBooks Desktop.
Open QuickBooks Tool Hub and Go to Program Problems.
From there, select Quick Fix my Program and wait for the scan to complete.
Once done, open the QuickBooks Desktop application and then, the company file.
Solution 4: Turn off QuickBooks Automatic Update
You may end up with a QuickBooks server busy error when you fail to turn off the QuickBooks automatic update, due to which, QB updates and other programs are continuously running in the background. Thus, you need to turn it off by following the below-given steps:
Simultaneously press Ctrl + Alt + Delete keys, and it will allow you to select Task Manager from the menu bar.
From there, go to the Startup tab and click on QuickBooks Automatic Update followed by the Disable option.
Further, you have to turn off shared updates in QuickBooks Desktop by following the below-given steps:

Go to the Help menu and click on the Update QuickBooks option.
After that, click on the Options tab.
Click on No for the Share Download option.
At last, click on Close.
Solution 5: Repair QuickBooks Software
When you use, install or update QuickBooks, you might get QuickBooks server busy error. At this time, You need to run the repair tool first. It will help you fix common errors like server busy error messages right away. Further, you may run it by following the below-given steps:
Note: Before you proceed with the below steps, make sure to create a back of your company file. Along with that, you must restart your computer. It makes sure there are no programs that may affect the repair.
Click on the Windows icon and then, go to the Control Panel. (If you're a Windows 8 or 8.1 user, you have to search the Control Panel from the Windows Start menu.)
After that, click on Programs and Features to Uninstall a Program. However, if you couldn't see the Programs and Features option, click on Programs instead. Then, you'll be able to select Program and Features.
Now, from the list of Programs (select QuickBooks), and then, click on Uninstall/Change option.
Further, click on Continue> Repair> Next.
Note: You must know that the repair process might take some time depending on the speed of your system and the size of your company file. Thus, you must leave your system running, and come back once it will be completed.
Moreover, to complete the repair process, you must restart your computer. Once done, click on Finish.
Lastly, make sure to update your QuickBooks application as per the latest release. It ensures that you have the most recent fixes and security updates.
Solution 6: Clean Install QuickBooks Desktop
You must uninstall your QuickBooks Desktop using the QuickBooks Clean install tool to resolve the QuickBooks server busy error. Moreover, if you are having Intuit ProSeries installed on your system, then, you can try to rename it as well. For that, you may follow the below-given steps:
Firstly, you need to check the Windows Task Manager for qbpsevntXXr.exe (Here XX signifies the year of the Intuit ProSeries software). Make sure to note the year of the executable (the XX), in the file name.
Then, open Windows Explorer.
After that, search for the open Intuit ProSeries folder for that year which is usually C:\ProWinXX.
Make sure to Open the 32-bit folder now and search for the qbpsevntXXr.exe file. Right-click and select the Rename option.
Add .old to the end of your file name. For example: qbpsevnt18r.exe.old
At last, ensure the Windows Explorer is closed.
Alternative Methods To Resolve Server Busy Error In QuickBooks
It might be possible that none of the above-mentioned solutions would have helped you resolve the QuickBooks server busy error. Well, in that case, you can try out the below-listed troubleshooting methods.
Boot Windows to Safe Mode with Networking: Safe mode starts Windows in a basic state, using a limited set of files and drivers. If no issue happens in safe mode, it signifies that default settings and basic device drivers aren't creating the issue. Observing Windows in safe mode allows you to narrow down the source of a problem and can help you solve the problems on your computer. However, there are two versions of safe mode:

Safe Mode
Safe Mode with Networking
Safe Mode with Networking adds up the network drivers and services that you would require to access the Internet and other computers on your network. Once done, you may start QuickBooks Desktop and restart Windows to normal mode.
Run QuickBooks Desktop in Windows Selective Startup: Have you come across issues when you uninstall or install QuickBooks on your computer or is any other application hindering you from completing your task? If yes, then you must switch to Selective startup mode. It will help you install or uninstall your program smoothly and thus, will resolve QuickBooks server busy errors.
Note: While you switch to Selective startup mode, make sure to stop IntuitFCS.
Reconnect your computer to all mapped drives: You get access to a folder that is stored in another drive, server, or computer over a network – When you map a network drive in Windows. To access QuickBooks company files from the shared storage, Mapping will perfectly help.
Temporarily disable the backup software: If you're running backup software on the server or network, it will scan the hard drive and blocks access to QuickBooks Desktop files. Thus, in that case, you must disable it. However, if the QuickBooks server busy error persists, it indicates that there's a conflict with the scanning software. In that case, you must take assistance from your network admin, the manufacturer's or software developer's website, or a local computer consultant.
Get QB Professionals Help To Fix Server Busy Error!
We have listed all the possible effective resolution methods that can help you resolve QuickBooks 2011 server busy errors without any hassle. However, there might be a possibility that none of the solutions would work in your favor. In such a scenario, we would suggest you to get in touch with our experts by placing a call on QuickBooks Data Service Solutions contact number +1(855)-955-1942.