QuickBooks offers an option to connect your bank accounts with the application in order to streamline your transactions but you might fail to use this service because of QuickBooks Online Banking error 355. Many Bank of America and Chase Bank account holders have complained about not being able to download or upload transactions because of this error.
Quickbooks Bank Error 355 occurs when QuickBooks is unable to establish a connection with your bank, and your bank feed won't update. The error message that appears on your screen is:-

"We are having trouble getting your bank data. Please try again later. (355)"
How to fix QuickBooks Banking Error 355?
Intuit support services have solved QuickBooks Online Error 355 in the recent updates, and they offer the following solutions. Follow these steps to fix this error and access the features that are blocked due to QuickBooks Banking Error 355:-
Method 1- Manually Update your Bank Account
You can manually update your bank account if it does not update automatically. Follow these steps in order to do so:-
Tap on Banking in the left menu.
Choose your bank account from the list.
Click on the Update button.

Enter in your Multi-Factor Authentication (MFA) credentials if required and click on Continue Update.
Note- Jump on to the next method if the issue still persists after this method.
Method 2- Update your Bank Information
Resetting and editing your bank information can help you fix QuickBooks Banking Error 355. Follow these steps to do so –
Click on Banking from the left menu.
Now, Choose the appropriate bank account from the list.
Tap on the pencil icon and select Edit sign-in info.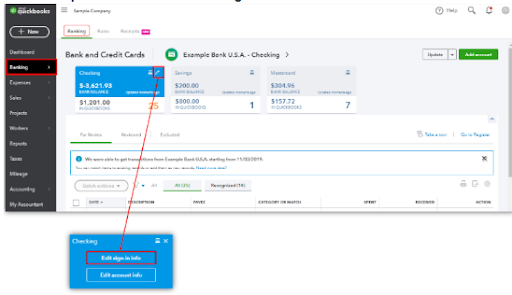 Now enter your Banking details and tap on Update.
Method 3- Run QuickBooks in Incognito Mode
Cookies and caches on your web browser can possibly lead to Quickbooks Bank Error 355. Try opening your QBO company file in incognito mode as they remain unaffected by Cookies and cache. Each browser has a different way to access incognito mode:-
Ctrl + Shift + N – Google Chrome
Ctrl + Shift + P – Firefox
Command + Shift + N – Safari
Ctrl + Shift + P – Microsoft Edge
Note– If you don't face any error through this mode, go on your regular window and clear the cache.
Method 4- Manually Import the Transactions
Quickbooks Online Banking Error 355 creates an issue in updating your transactions automatically. Luckily QBO offers an option to manually upload your transactions. You can ask for a list of transactions from your bank and upload it on OBO:-
Note:- Your file needs to be in .QBO, .CSV or .QFX format so that QuickBooks can read it.
Go on the Banking page and click on Banking.
Choose the bank and tap on File Upload in the upper-right corner.
Browse and open your bank file.
Tap on Next till your transactions are successfully imported.
Let Experts Help you to get rid of QuickBooks Error Code 355!
So this has been all about Quickbooks Online Banking Error 355. We hope that now you know what to do when you run into this error while trying to connect with your bank. If you still have any query, get in touch with our QuickBooks professionals by placing a call on QuickBooks Data Service Solutions Helpline Number +1(855)-955-1942.