It must have happened that you would have overpaid or recorded the payment twice to an invoice or bill by fault. This creates the need to unapply a credit in QuickBooks so as to settle the overpayment and avoid any future conflicts. Usually, QuickBooks automatically applies the credit to an overpaid invoice from a customer, whenever a customer makes an overpayment. However, here we will discuss how you can remove the customer or vendor credit in the QuickBooks application.
Are you looking for ways that can help you remove a credit from a bill or invoice? If yes, then, we would suggest you take the assistance of our experts by giving us a call on our Toll-Fee Number +1(855)-955-1942.
What Is A Credit Memo In QuickBooks?
A credit memo is a commercial document in the QuickBooks software that helps to track customer payments and any payment reductions that may happen due to unforeseen circumstances or reasons. Memos created within the QuickBooks application are displayed in the accounts receivables tab that further appears under the customer's centre section. Thus, you can say that credit memos are meant to give a transparent view of the credit given to a customer.
How To Find Credit Memos In QuickBooks Application?
At times, you might want to adjust an overpayment in QuickBooks as a credit, in that case, you can unapply a credit in QuickBooks Desktop in several ways. But before that, you need to find credit memos in the QuickBooks application. To get it done, you may proceed with the below-given steps:
Firstly, sign in to the QuickBooks application and go to the Report tab. From there, click on the Customers and Receivables option.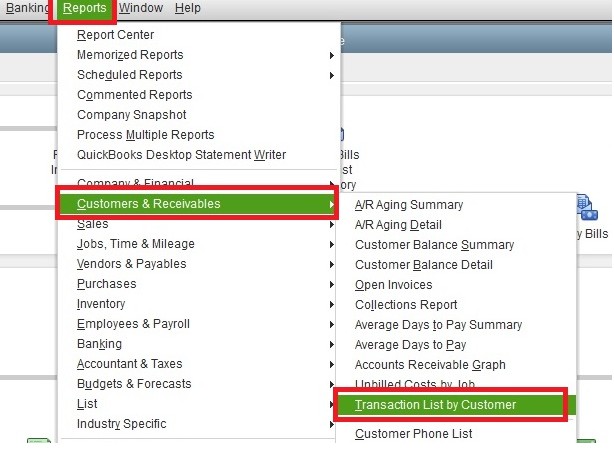 Now, select the Transaction List by Customer from the drop-down menu.
After that, click on the Customize Report option and move to the Filters tab.
Moving ahead, enter the Transaction Type in the search field.
Select Transaction Type and click on Credit Memo from the drown-down list and click OK.
Lastly, you will be able to see all the Credit Memos in QuickBooks Desktop.
Different Ways To Unapply A Credit In QuickBooks
You would surely be able to find all the credit memos that you have in the QuickBooks Desktop application by following the above steps. Now, you can go ahead and unapply a credit in QuickBooks. Before getting it done, you can discuss with your client about the most suitable way to perform this task. Here, we have listed different ways that can help you remove credit from an invoice or bill:
You can create credit in QuickBooks to refund the overpaid amount.
Moreover, you may also create a journal entry to write off the overpaid amount.
Besides, you may apply the credit to an unpaid invoice.
Apply the credit to the next invoice that the customer needs to pay.
Here's How You Can Remove Or Unapply A Credit From An Invoice Or Bill
Did you accidentally apply a credit to an invoice or bill? Don't worry. Here are the easy-to-follow steps to unapply a credit in QuickBooks.
Steps to Unapply Credit from a Bill in QuickBooks Desktop
Here's how you can remove a vendor credit from a bill in the QB Desktop application:
Firstly, search for the vendor credit.
Then, click on the Bill radio option for changing the transaction type to bill instead of credit.
Then, click on Save & Close.
Further, you have to change the transaction back to credit by selecting the Credit radio option in the resulting bill.
Again, select Save and Close.
Click on yes, whenever a prompt about changing the transaction appears on your screen.
Remove a credit memo from an invoice
Follow the below-given steps to remove a credit memo from an invoice if you have incorrectly applied it:
Simultaneously press Ctrl + H keys to display the transaction history.
Now, Double-click the invoice and click on Apply Credits.
Clear the selection for credit (Visible On the Previously Applied Credits window).
Moving further, On that window, click on Done.
On the invoice, make sure to select Save and Close.
Need Help To Remove a credit from an invoice or bill!
We hope the steps mentioned in this blog would have helped you unapply a credit in QuickBooks and thus you have successfully removed your overpaid transaction. However, it still couldn't remove it due to any reason, we would suggest you get in touch with our experts by placing a call on QuickBooks Data Service Solutions Helpline Number +1(855)-955-1942.