As you know that a number of tasks in Quickbooks require Primary admin access. Sometimes, you may need to change primary admin in Quickbooks online & desktop due to various reasons, such as your accountant left the job or master admin lost his/her credentials, or you changed your accounting firm, etc. In such a case, Either you can contact Quickbooks helpline and request to change the primary admin of your QB or you can do it yourself by following a stepwise process.
If you have Quickbooks Online simple start version for your Business, then you won't be able to change primary admin user in Quickbooks online. In this case, Contact us Directly at +1(855)-955-1942.
Why Primary admin is so Important in Quickbooks?
The primary admin can access any function or part of your whole Quickbooks software. Master/Primary admin can manage all other users in the QB and have the highest level of access permissions. By default, the user who set up the QuickBooks account becomes the master admin for that company. If you're using Quickbooks Online Accountant, you'll be the Primary admin for all your clients
Complete Process to Change Primary Admin in Quickbooks online
First and the most important thing to change primary admin in QuickBooks online is that you have to be signed in as the primary admin to transfer this role to someone else. Also, If the current Primary admin is no longer available, then you can simply request to be the new primary admin of the Quickbooks(we discussed that in the special case).
Step 1: Add A New User (If the new Master Admin isn't in your Account yet)
First of all, you need to add a new user to your Quickbooks if the New primary admin is not a user already. After that, you'll have to ensure that the user is added as a Company Admin. Follow the steps to add the user as a company admin as follows:-
On your Quickbooks Dashboard, click the Gear icon.
On the appearing options, go to Your Company and click on Manage Users.
Then, select Add user option and pick Company admin as the user type.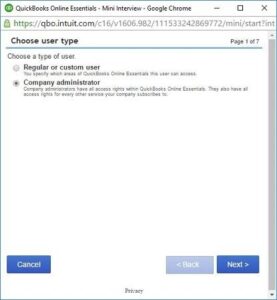 After that, click on Next.
Enter the new user's information and then, click on Save.
Your new user will get an invitation email. They have to click on the Let's go! Link and then sign in.
Then, ask your user to check his email to accept the invitation. Once done, transfer the primary admin access to this new company admin.
Read More: Quick Guide to Delete a Customer in Quickbooks
Step 2: Transfer the Primary Admin Access to the New Company Admin.
After Successfully giving New User a Company Admin type, you have to Make The Transfer To The New Master Admin, Follow the instructions listed below:
Go to Settings to choose Manage Users.
Then, go to the User Type column and if the user that you want is not listed as Admin, select Edit to change them to an admin.
After that, select the small arrow in the Action column to the right of the user and click on Make master admin.
For security reasons, a verification code is sent to your phone number or email on file for your account. When received, enter it and click on Continue.
In the window, click on Make master admin to confirm that you want to make the change.
Go back to Settings and select Sign Out to sign out as the current master admin.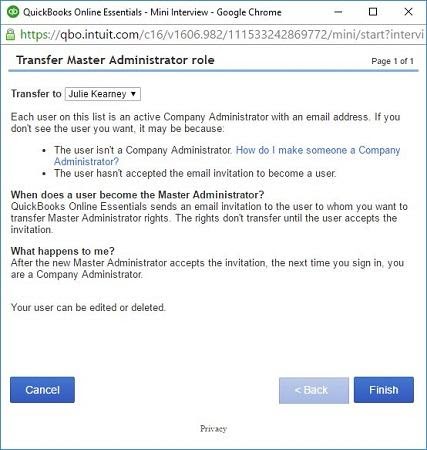 When the user receives the invitation email, tell them to select the link and accept the invitation.
Special Case: How to Change Primary Admin in Quickbooks Online when the Current Master admin is no longer available.
If the existing master admin has left the company, is deceased, or cannot be reached for other reasons. In such a case, to change the primary admin of your QuickBooks, you must send a request to the QuickBooks account protection team to become the primary admin.
They'll need a few documents depending upon the type of your business to verify your credibility for a primary admin and then by following a process of submitting the document and filing a request form you can easily become the primary admin of your QuickBooks online.
Need Experts Help for Changing Primary admin in QuickBooks online!
There could be a case where you can get issues while changing primary admin in Quickbooks or you're using Quickbooks online simple start, In such a case, you must reach our experts by placing a call on QuickBooks Data Service Solutions Helpline Number +1-(855)-955-1942.